Tipton Lounge Bar death: Dominic Fraser jailed for murder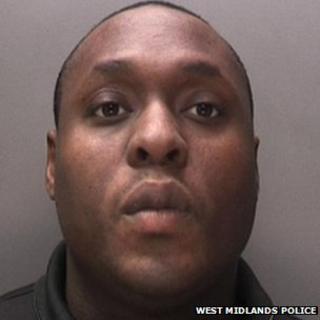 A man found guilty of murdering another man by stamping on his head at a pub in the Black Country has been jailed for a minimum of 14 years.
Dominic Fraser, 32, from Highfield Road in Tipton, stamped on 30-year-old Kevin Hadley's face at Great Bridge's Lounge Bar last year.
Fraser was found guilty at Wolverhampton Crown Court in July.
A post-mortem examination showed Mr Hadley died from "blunt force trauma" to the head, police said.
Fraser stood on Mr Hadley with such force that he left footprint marks across his face, West Midlands Police said.
Mr Hadley and 52-year-old Kevin Hadley Snr, both from Slater Street, West Bromwich, had each drunk around 10 pints of beer on 16 October before going to the Lounge Bar.
'Hurled fire extinguisher'
Mr Hadley Jnr was described as acting aggressively and his self control was "blurred by alcohol" when he squared up to a group of men playing pool.
He was struck with a pool cue swung by Shazad Ali, 25, from Tipton, before Fraser kicked Mr Hadley Jnr in the head, police said.
CCTV footage showed it was Fraser who stamped on the victim.
Sgt Mick Griffiths, of West Midlands Police, said: "As Fraser left the pub he kicked Mr Hadley Snr twice in the head as he lay injured on the floor, an act the prosecution said was a telling piece of evidence and summed up his state of mind."
Four other men had also admitted their parts in the fight at earlier court hearings.
Roy Cross, 30, from Powis Avenue, Tipton, admitted wounding Mr Hadley Snr and trying to wound him by hurling a fire extinguisher towards his head as he lay on the floor. He was jailed for 11 years.
Sadaquat Ali, 32, of Madeley Road, Kingswinford, admitted assaulting Mr Hadley Snr - who was also knocked out in the brawl but later recovered in hospital. He was sentenced to 10 months imprisonment.
Shazad Ali, 25, from Tudor Road, Tipton, received a six-year sentence after being found guilty of manslaughter.
Hafizur Rahman, a 30-year-old from Tipton, admitted threatening behaviour and received a three-month suspended sentence.