HMP Oakwood: 'Serious failings' over inmate's death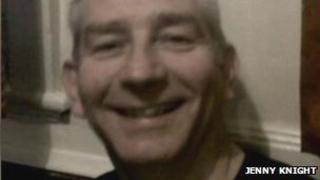 The Prison Ombudsman has identified "serious failings" by staff at the UK's largest privately-run prison after the death of an inmate.
Edward Ham, 54, was declared dead in his cell at G4S-operated HMP Oakwood, near Wolverhampton, in February.
Ombudsman Nigel Newcomen QC said the emergency response was "unacceptably poor" and staff could not access a defibrillator as it was locked away.
G4S said it was unable to comment on Mr Ham's case while it was being reviewed.
On Tuesday, the Chief Inspector of Prisons criticised HMP Oakwood for failing to tackle drug issues.
Mr Ham's daughter, Jenny Knight, said her father had been sentenced to six years in jail for drugs offences in May last year.
He was sent to HMP Birmingham in Winson Green, then transferred to HMP Oakwood in November.
Ms Knight said her father had high blood pressure but a doctor had deemed him fit enough to exercise in the prison gym.
On 6 February, staff found Mr Ham was not breathing but could not access a defibrillator because it was locked in a cupboard and there was no doctor on site.
Ambulance delay
An ambulance was eventually called but paramedics declared Mr Ham dead in his cell.
An exact cause of death has not yet been established and an inquest into his death is due to be held at a later date.
Ms Knight said: "I can't believe how long it took for them to actually get an ambulance to him.
"We didn't find that out until the report came."
Mr Newcomen has sent Ms Knight a summary of his report which identified the "serious failings" in the treatment of her father.
The full report is yet to be published.
The summary said that Mr Ham, who was also known as Steve, "did not receive a good standard of care in relation to the screening and management of his high blood pressure".
Mr Newcomen wrote he was "particularly concerned about the poor standard of the emergency response".
He added: "The emergency response when Mr Ham was found unresponsive in his cell was unacceptably poor."
G4S said every death in custody was examined independently by the Prison Ombudsman and it would be "inappropriate to pre-empt the Ombudsman's findings".
The Worcestershire Health and Care Trust said it was not prepared to comment on Mr Ham's case until the full report had been published.
HMP Oakwood opened in April 2012 and houses about 1,600 inmates.
A report on Tuesday found one in seven prisoners said they had developed a drug problem while at the prison and that inmates had said it was easier to obtain drugs than soap.
In response to that report, G4S said that running a new jail was a "challenging" operation.
In July, HMP Oakwood was one of two private prisons which received the Ministry of Justice's lowest rating.