PC Ben Bates dives into West Park lake to save pet dog Lexi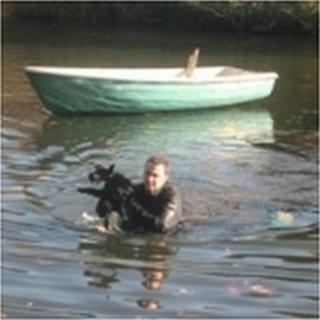 A police officer dived into a lake to save a dog from drowning.
PC Ben Bates was on duty cycling through West Park in Wolverhampton on Tuesday when the park ranger told him an Airedale Terrier was in danger.
Using a nearby boat he rowed to Lexi the dog, who was stranded on an island lake, but after getting her aboard, she panicked and jumped into the water.
The West Midlands police officer then dived in to rescue her before returning her to her distraught owner.
'Became distressed'
Mr Bates, who is based at Staveley House in Wolverhampton, said: "I did my upmost to keep the owner as calm as possible and decided to take action.
"The sight of me in full uniform rowing out to the island where Lexi was attracted a lot of interest.
"I managed to grab Lexi - and having rowed a quarter of the distance back to safety Lexi became distressed and jumped out of the boat."
He said he did not know how deep the water was but felt he had no option but to jump in and rescue the dog and return "a relieved Lexi to an even more relieved owner".