Heartlands Hospital in payout to hysterectomy patient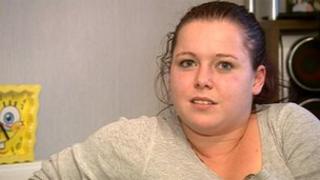 A woman who underwent a hysterectomy at the age of 19 because of an untreated infection, has received "significant five-figure" compensation.
Hayley Sanders, now 23, gave birth to her son Jayden at Birmingham's Heartlands Hospital in December 2009.
She was discharged despite having a high temperature, before being rushed back in for a hysterectomy.
The Heart of England NHS trust did not admit liability, but made the payment and wished Ms Sanders "all the best".
In a statement it said: "We take the care and safety of all our patients very seriously. Hayley Sanders suffered complications during the delivery of her son."
The trust agreed an undisclosed settlement with Ms Sanders last month, shortly before the case was due to be heard at the High Court.
'No little brother'
Ms Sanders, from Chelmsley Wood, Birmingham, said she was "disgusted" the hospital had not apologised.
"I expected to be able to go home, bond with him, see his first smile, his first chuckle and I never got to see any of that," she said.
"I saw hospital ward after hospital ward, operation after operation.
"I would have, one day, been able to give him a little brother or sister.
"Instead, I was robbed of this and have been left with a host of ongoing problems that are a constant reminder of the failings in this case."
Ms Sanders's lawyer Emma Rush, said staff at Heartlands missed four opportunities to treat the infection, thought to have been contracted during internal examinations before she underwent an emergency Caesarean.
Ms Rush said the infection could have been easily treated with antibiotics, but it was allowed to develop into severe abdominal sepsis.
Two days after being discharged Ms Sanders was readmitted to hospital and spent days in a high-dependency unit before undergoing a full hysterectomy.
As well as an apology, Ms Rush called for the hospital to improve training for staff in recognising the symptoms of infection.