Peaky Blinders TV gangland drama sparks spin-off tour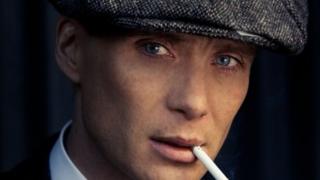 Their "aggressive masculinity" made them "the hoodies of their day", men who lived in a world where you could be attacked just for ordering the wrong drink.
The mean streets of early 20th Century Birmingham were an unrelenting place, a place where flat caps reportedly had razor blades sewn into the peaks.
But thanks to the success of BBC Two's highly-stylised gangland show Peaky Blinders, residents are now running guided tours of what were once the city's most violent districts.
The first four tours take place on Saturday and Sunday in Digbeth, on the edge of the city centre, and have attracted interest from across the UK.
There are 120 people signed up to hear tales of notorious criminals such as Billy Kimber and Tommy Shelby, whose rivalry is outlined in the series.
Rosie Pocklington, who has lived in Digbeth for a decade and sits on the residents' association, will lead the tours.
"I had the idea while watching the TV series," she said. "I thought it was bound to get people interested in the area.
"I've always been fascinated by industrial history - and Birmingham is full of it."
Ms Pocklington researched the Peaky Blinders by studying history books and the police archives, where details of gang members' arrests are recorded.
"Those archives are very good for mugshots," she said. "The youngest arrest of a gang member I came across was just 13 - he got done for a stabbing."
In fact, she said, there was no one gang called the Peaky Blinders.
"The Peaky Blinders were the hoodies of their day," she said. "It was a term used by the media to describe a particular young man - or young woman - who dressed in a certain way and caused trouble.
"They wore gaudy neckerchiefs, steel-capped boots and bowler hats, which they used to shape into a kind of jug-spout at the front. As fashions changed, their hats became flat caps.
"Life was hard, so a lot of people tried to identify themselves with this very aggressive kind of masculinity."
First stop on Ms Pocklington's tour is Digbeth's Rainbow pub.
With its high, stained-glass Victorian windows and gleaming optics, it is not dissimilar in appearance from The Garrison, the pub owned by Tommy Shelby (Cillian Murphy) in the television series.
This pub, said Ms Pocklington, is where the Peaky Blinders were first name-checked in newspapers.
"One of the first press reports to mention the Peaky Blinders involved an incident at The Rainbow pub," said Ms Pocklington.
"A gang dressed in the Peaky Blinders fashion attacked a young lad named George Eastwood because he made the mistake of ordering a ginger beer, rather than ale. He managed to escape but suffered a fractured skull."
From The Rainbow, the tour moves through Milk Street and Alcester Street, both of which had their own gangs.
"You would get charismatic men springing up, like Thomas Shelby, and people would travel for miles to be part of his gang," said Ms Pocklington.
"Unlike the big mill towns and mining towns, where discipline was enforced by being part of a large industry, Birmingham's industry centred on smaller workshops so loyalties lay with certain streets and families.
"Milk Street was notorious for fighting. I found records which said a member of the Milk Street gang was stabbed to death by somebody from the Alcester Street gang."
The tour sticks to Digbeth and does not venture into Small Heath, where the series is set.
"Being from Digbeth, I wanted to concentrate on this area," said Ms Pocklington.
The area's mix of Chinese, Irish and Italian communities is reflected in the show - and Ms Pocklington said this diversity still gives the area its vibrancy today.
"This area has always been a bit like the East End of London in that sense," she said.
The tour is supported by Visit Birmingham, which says it is pleased visitors are learning more about the city's fascinating - if violent - past.
So how has Digbeth changed?
Many of the former industrial buildings have been converted into city-centre apartments.
"It's a much safer area now," said Ms Pocklington, "but there's enough of the past around to give you a taste of what those days would have been like."