Birmingham Airport security breach 'could happen again'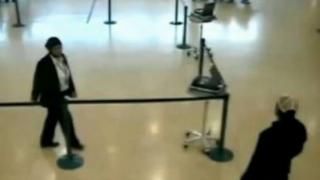 An airport security breach that saw illegal immigrants smuggled on to planes by airline staff "could happen again", according to aviation experts.
Imtiaz Ahmed and Ghulam Sarwar were jailed on Monday for letting passengers with forged passports on to flights to Canada from Birmingham Airport.
Experts think it is the first case of its kind but say it could happen again.
But the Department for Transport said it would not revise existing security measures as a result of the case.
'Serious compromise'
The National Crime Agency said it was the first time it had encountered a security breach of this nature.
A spokesperson said he could not recall any previous cases of people being smuggled out of a UK airport using such methods.
Ahmed, 45, from Balsall Heath, Birmingham, was sentenced to four years and Sarwar, 31, from Alum Rock, also in Birmingham, was given three years for fraud offences after the city's crown court heard of their involvement in the plot.
The scheme involved a person carrying a genuine passport checking in on a flight, before passing their boarding card over to someone carrying a fake passport in the same name.
That person would then pass through airport security, helped by Ahmed and Sarwar, who worked for private contractor ICTS.
The judge said the scheme had "seriously compromised airport and aircraft security".
Mr Yates, an air safety expert with aviation and defence publishers Jane's, said he had "no doubt" such a case could happen again.
"These were people who were travelling on false passports. The judge was absolutely correct that this compromised the security at the airport by the simple fact these people could go through.
"We can't trust the people on the plane are actually the people their passports say they are. That's the security breach.
"It's good we saw this particular scam nipped in the bud but there is always the potential for corruption."
A spokesperson for Birmingham Airport said its security checks were compliant with Department for Transport legislation and it "couldn't do more".
A Department for Transport spokesperson said: "Obviously we keep security arrangements under constant review.
"While we are not complacent, there is nothing about this case that suggests an immediate need for revision of existing measures."
He said he "would not speculate" on whether such an incident was likely to be repeated.