Wolverhampton Youth Zone awarded charity grant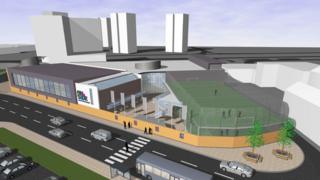 Plans to build a £6m youth centre in Wolverhampton have been backed with a £1m grant from two charities.
The "youth zone", set to open in 2015, will offer a range of activities, including sport, arts and music.
It is supported by the city council, the Onside youth charity, and a foundation set up by Steve Morgan, owner of Wolverhampton Wanderers FC.
The project has now been awarded £500,000 by both the Queen's Trust and the St James's Place Foundation.
The new centre, which is expected to cost £1m a year to run, is set to be built on Little Brick Kiln Street.
Mike Wilson, Chairman of the St James's Place Foundation said: "We are convinced that this new youth zone will provide an amazing space for the young people of Wolverhampton and encourage other similar projects to be developed in the future."
It will feature sports facilities, cafe areas and performance spaces.
Onside has already helped set up five youth zones in Manchester, Carlisle, Oldham, Blackburn and Wigan.
The charity said that like other centres, the one planned for Wolverhampton was designed to be a "state of the art, safe and inspirational place for young people in the area to spend their leisure time".