Pub bombings victim's family 'outraged' at Troubles killing call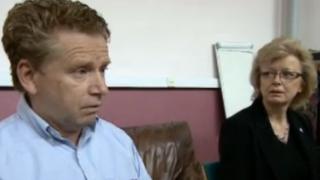 Relatives of a victim of the Birmingham pub bombings have said they are "outraged" by the Northern Ireland attorney general's call for an end to Trouble-related prosecutions.
Maxine Hambleton's siblings said John Larkin's comments made them more determined to get justice.
Maxine was one of 21 people killed in the bombings.
West Midlands Police said Mr Larkin's remarks would have no bearing on the work the force was undertaking.
The bombings took place at two pubs - The Mulberry Bush and the Tavern in the Town - on 21 November 1974.
Six men from Northern Ireland, known as the Birmingham Six, who were convicted of the attack in 1975, were freed by the Court of Appeal in 1991, after their convictions were ruled unsafe.
Mr Larkin said there should be no further police investigations, inquests or inquiries into any relevant killings that took place before the signing of the Good Friday Agreement in 1998.
The Hambleton family has been campaigning for police to reopen Maxine's case.
Maxine's sister Julie, 58, said she was outraged by Mr Larkin's comments. "I would put my life on it that it is not his [John Larkin's] decision to come out with this.
"Someone has been having high-ranking talks here and they have got him to come out with it."
Her claim was rejected by the attorney general's office.
David Cameron said there were no plans for an amnesty.
"The words of the Northern Ireland attorney general are very much his own words," he told MPs during Prime Minister's Questions.
Brian Hambleton, Maxine's brother, who featured in a BBC documentary on Monday night called Who Murdered Maxine? said it was a "serious slap in the face".
But he said it would not hamper their campaign for West Midlands Police to reopen Maxine's case.
"This will not deter us," said the 58-year-old, who still lives in Birmingham.
"I'm so angry. It's like an electric shock."
A West Midlands Police spokeswoman said: "Mr Larkin's comments will have no bearing on the work we are currently undertaking - which is to collate, assess and catalogue to modern day standards all documentation and exhibits relating to the Birmingham pub bombings.
"We are also asking two independent forensic scientists to assess whether any new forensic opportunities may be available to us."