Typhoon Haiyan: Islands are 'a mess', aid worker says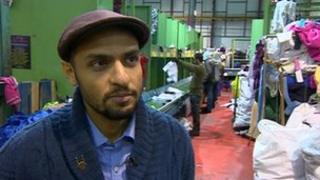 An aid worker who has returned to the UK from the typhoon-hit Philippines says "everything is a mess" and shelter and food remains a priority.
Zaid Al-Rawni, from Hall Green in Birmingham, went to the country with Islamic Relief, one of 14 Disasters Emergency Committee (DEC) charities.
More than 3,600 people died in Typhoon Haiyan just over week ago.
Mr Al-Rawni said the sheer scale of the rescue effort was huge and getting to the various islands was very difficult.
'We need food'
"Everything is a mess, everything is upside down," he said.
"Trees are in the wrong place, cars are upside down and in the wrong place."
He said it was important to prioritise the emergency response and food and shelter was what people were asking for.
"We were getting feedback and it was 'we need food, we need shelter', so that was that we were sourcing and making sure people had that locally."
A DEC appeal has raised £50m in eight days which has helped more than half a million people, the charity said.
But more than 13 million people are now known to be affected, with four million forced from their homes.