New Library of Birmingham website costs council £1.2m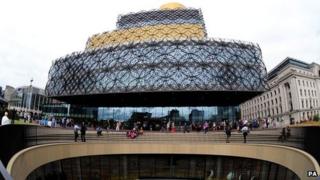 The website for the new Library of Birmingham has cost the council £1.2m to set up and launch.
It is part of the authority's contract involving Service Birmingham, a joint venture partnership between Capita and the council. The website will also cost £190,000 a year to run.
Birmingham blogger Maz Snape said it did not "need to spend that much money".
But the council said it needed to ensure the website was "robust".
The library opened on 3 September, cost £189m to build and houses about one million books.
'Wing and a prayer'
Ms Snape, who promotes arts and music events in the city free of charge, acknowledged the library website needed a sophisticated computer program.
But she added: "I understand that there's going to be costs involved in the content and I would be really interested if there was some way that they could kind of publicly show the breakdown of what's involved in that cost."
The council said there were "various different elements of the specification for the website" which made it "a highly complex project".
It said one of the most complicated elements of the website design was "the extent of integration with other library systems" and another essential feature was "the sophisticated process of publishing and moderating content".
In a statement, it said: "Since the library opened page views of the website have increased tenfold, so it is vital that the performance of the system is robust."
Former council deputy leader, Liberal Democrat Paul Tilsley, who drew up the original contract with Service Birmingham, said he did not draw up the contract for the library website.
He said: "Websites are very, very complicated things... and we went through this argument about five years ago about the city website.
"There were a lot of well-intentioned people out there who said they could do it for a wing and a prayer but when you actually boil down all the arguments you need professional people doing it full time and coming up with a product on time and to budget."