CBSO honours choral director Simon Halsey's 30 years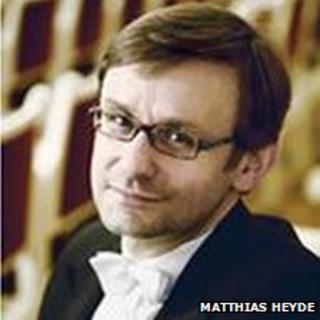 One of the world's leading choral conductors is being enrolled in the Birmingham Symphony Orchestra's Hall of Fame to mark his 30-year tenure as choral director.
Simon Halsey, 55, took up the post in 1983.
As part of an evening of celebrations, he will direct the orchestra's choirs to mark the 100th anniversary of composer Benjamin Britten's birth.
Halsey said: "It is a wonderful honour."
'Fitting tribute'
A portrait of Halsey will be hung later in the orchestra's Hall of Fame at its Berkley Street offices, an honour reserved for the orchestra's most renowned members since it was founded 1920.
In his time with the Symphony Orchestra, Halsey has regularly directed choirs worldwide and collaborated with conductors Sir Simon Rattle, Claudio Abbado and Marek Janowski. He is also a professor of choral activities at the University of Birmingham.
He said: "As a chorus director, Britten's centenary has been a fantastic opportunity for me to work with and bring together all of our symphony choruses for a spectacular evening.
"To bring the Symphony Orchestra and University of Birmingham choirs together on Britten's birthday - and combine it with the celebration of my 30 years as choral director - is a wonderful honour."
Speaking ahead of the performance, Stephen Maddock, the Symphony Orchestra's chief executive, said: "This is a fitting tribute to Britten's work and to celebrate our chorus director's 30th anniversary."