Campaign over threatened Moseley Road Baths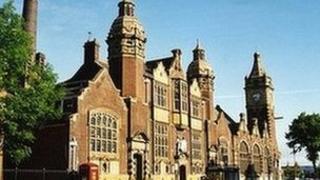 Campaigners say they will fight to save swimming baths dating back to 1907 which have been earmarked for closure.
Moseley Road Baths are among nine leisure centres and swimming pools which could shut as part of Birmingham City Council's plans to save £6.8m.
Instead, six new leisure centres will be built and run privately.
Friends of Moseley Road Baths, in Balsall Heath, has sent an open letter signed by teachers and community groups calling for them to stay open.
Its secretary, Rachel Gilles, said it acknowledged the council was "in a difficult position" but the cost to the community through closure was "a price too much".
'Not easy'
Moseley Road Baths, the oldest of three Grade II* listed swimming baths operating in Britain, has two pools - the small pool is currently open, but the gala pool shut a decade ago because of safety concerns.
The baths are due to shut in September 2015.
Steve Beauchampe, author of the Pool Of Memories, a book about Moseley Road Baths and a campaigner for local pools, claimed people "won't go" to the replacement for Moseley Road Baths, which would be built in Sparkhill.
He said: "To tell them [local people], as the council are now, that they can all go and swim at Sparkhill instead, when the newly-built Sparkhill baths reopens, is a nonsense.
"It's not an easy journey. I actually walked between the two baths yesterday as it happens... It took me 20 minutes and I walk fairly briskly and I'm fairly fit and healthy."
'No further subsidy'
In August, councillor Lisa Trickett said "it could cost £20m, £24m to put it right in the most basic sense".
In December, the Labour-run council said it did not have the funds to match a £3m promise made by the Conservative-Liberal Democrat coalition to refurbish the baths, which would have been used alongside a Heritage Lottery Fund bid.
On Wednesday council deputy leader Ian Ward said the authority has a £6.8m overspend on its sport and leisure budget and it has "got to remove that overspend if we're to balance the budget".
He said: "What we are doing is using the available resource to drive forward the six new builds that we are going to make.
"But then, having used our revenue funding to effectively borrow the money to build those new centres, we're then going to have to have them run at no further subsidy to the council and that's about bringing in the private sector who can do that."
Proposals are due to be discussed at a cabinet meeting on 16 December.