HMP Oakwood prisoners stage rooftop protest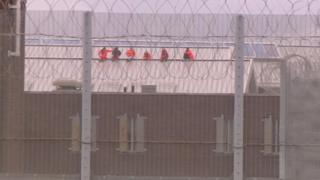 Six prisoners have staged a rooftop protest at HMP Oakwood, near Wolverhampton.
The prison, operated by security firm G4S, was the scene of similar demonstrations last month.
HMP Oakwood has faced criticism in recent months, with a report by the chief inspector of prisons saying drugs were easier to obtain than soap.
G4S said the Ministry of Justice had been informed of the latest protests, which lasted nearly seven hours.
On 11 October, a team of negotiators was brought in to bring three prisoners, again dressed in orange high-visibility jackets, down from the roof.
HMP Oakwood opened in April 2012 and houses about 1,600 inmates.
'Staffing concerns'
A G4S spokesperson said the latest protest started at 11:00 GMT on Wednesday came to an end at about 17:45.
"We can confirm that an incident involving six prisoners at HMP Oakwood has now come to an end," he said.
"We are carrying out an investigation into what happened so it would not be appropriate to comment further at this stage."
A Prison Officers Association spokesman said he was concerned there had been two demonstrations in the space of weeks.
"The management of the prison need to learn lessons from this," he said.
"I am concerned about staffing levels - they seem very thin on the ground there to me.
"I think this sort of thing could be avoided if there was adequate staffing in place."