Drugs 'worth up to £30m' seized at Brownhills warehouse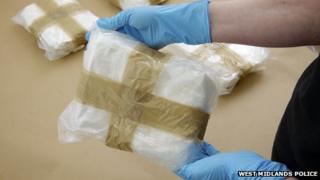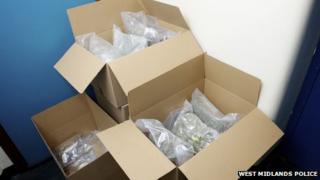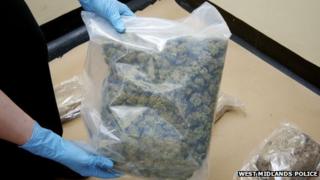 Three men have been arrested after police seized 200kg of cannabis, cocaine and ecstasy pills with an estimated street value of up to £30m.
West Midlands Police said the haul was one of the biggest it had ever found.
The drugs were found during a raid at a warehouse on the Maybrook industrial estate in Brownhills on Wednesday.
Police said two men, aged 50 and 53, from Brownhills and a man, 51, from Norton in Stoke-on-Trent, were arrested and bailed pending further inquiries.
Thirty officers raided the unit at about 17:00 GMT on Wednesday.
They found drugs packed into six large cardboard boxes under a "layer of protective foam chips and wrapped in cellophane".
The cannabis was vacuum packed to prevent people smelling "its distinctive pungent aroma", police said.
The force said the drugs had been placed on to five freight pallets which needed a forklift truck to move them because of their heavy weight.
Police said initial estimates put the street value at £10m but purity tests could see it rise to £30m.
Det Sgt Carl Russell said: "The impact this seizure will have on drug dealing in the region and the UK as a whole cannot be underestimated.
"The drugs had almost certainly been packed to order ready for shipping within Britain but possibly even further afield."