Birmingham city fire: Children rescued by 'jumping into duvet'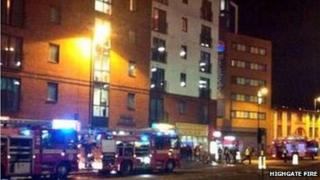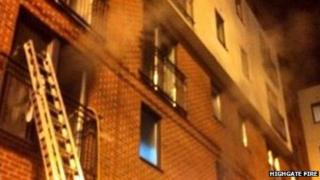 A mother and her two young daughters were rescued from a fire in a Birmingham apartment block by jumping into a duvet.
Siu Minh Truong, whose family runs a cafe in the building on Upper Dean Street in Digbeth, was alerted by the girls' screams.
While Mr Truong's daughter dialled 999, his son Michael ran out to help.
Together with another resident, the Truongs persuaded the girls to jump from their first-floor flat.
'Little girls screaming'
West Midlands Fire Service said the mother and her two daughters are being treated in hospital for smoke inhalation, along with a man who was rescued by fire fighters.
"My father drove to the car park behind the apartments and heard two little girls screaming," said Michael, who manages Cafe Soya.
"He came back into the restaurant and told us to call 999.
"Then the staff and I ran outside to try to help the two children."
Mr Truong said he thought the girls were aged around five and seven.
Candle
"A lady from one of the apartments ran out with a duvet," he said.
"Everybody held the duvet. My father caught the first child, and the second child and her mother jumped into the duvet.
"The apartment was on the first floor. Any higher up and we probably wouldn't have been able to do it."
The blaze, which the service said was caused by a candle, was reported at about 18:30 GMT.
Four crews worked to evacuate 130 people from the complex, which includes shops, apartments and restaurants.
The blaze was brought under control at about 19:40.
The fire service could not confirm all residents had returned to the building but Mr Truong said customers had gone back to the restaurant at about 19:50.