Birmingham City Council to axe 1,000 more jobs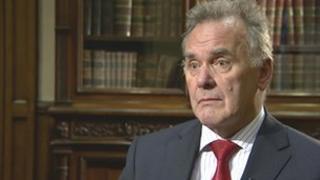 A further 1,000 jobs are to be axed by Birmingham City Council because of budget cuts, its leader has said.
Sir Albert Bore, the leader of the Labour-run council, said the only area that would not be affected was the children's services department.
The council said its latest budget proposals were part of efforts to save £840m by 2017.
About 850 jobs have gone, or are in the process of going, since the last budget was approved, a spokeswoman said.
The government recently withdrew a plan to give the children's services department an Ofsted review.
'Worse than feared'
Instead a taskforce will be sent in to look at the city's plans for improvement.
The department is the biggest of its kind in England and has been rated as "inadequate" for four years.
Outlining the authority's budget proposals, Sir Albert said: "The overall position has deteriorated from that which we expected when we set this year's budget in February 2013, largely because of a series of government announcements about further funding reductions.
He claimed that the government's March budget had added one percent onto the council's target savings from 2014/15 onwards, and said the authority had been hit with a 14.5% reduction in cash from core government grants in 2015/16 rather than the estimated 10%.
"It is also worse than we feared in the summer."
He said the council had previously expected to have to save £615m by 2015-17, but that figure had grown to £840m by 2017-18.
When announcing cuts to the council's budget last year, Sir Albert spoke of staring into the "jaws of doom". At Monday's meeting, he said "the jaws of doom have widened" and confirmed he was "very close to decommissioning some services".
'Services affected'
He pledged to protect front-line services, highlighting an extra £10m for children's safeguarding services, but could not rule out further job losses across the council in the future.
Latest figures show that 13,268 people worked at the authority as of September this year, a 31.5% drop compared with the 19,364 staff employed in April 2010.
Local Government Minister Brandon Lewis said that government reforms had delivered a "fair deal to councils" giving them "greater financial independence".
He said: "This allows them to make sensible savings while protecting front-line services, which we have backed up with £3.8bn for crucial adult social care reform".
Gill Whittaker, from the GMB union, said: "We're very disappointed at the council making these cuts as a result of a reduction in the Tory spending plan.
"From a GMB perspective, we would be seeking it [the job cuts] to be done on voluntary redundancies. If there are any compulsory redundancies we would reconsider our stance."
Mark New, from Unison, blamed the coalition government "for the devastation of services in Birmingham".
"The quality of services will be affected, " he warned.
"We're talking to the council over the coming weeks and months and looking closely at the proposals."