MPs urged to protect police dogs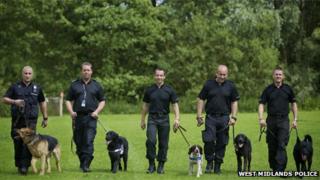 The founder of a charity has called on MPs to introduce new laws to treat police dogs the same as serving officers if they are attacked.
Dave Hibbert, who works alongside West Midlands Police, is asking for police dogs to have similar legal protection as their handlers.
He said the approach was already in force in several states in the US.
In the UK, anyone attacking a police dog can only be charged with criminal damage, West Midlands Police said.
Mr Hibbert, who helped set up the Retired West Midlands Police Dog Benevolent Fund, has launched a petition on the government's website calling for the introduction of a new offence.
In it, he said police dogs on duty should be recognised as "representing an extension of their handler as a police officer".
'Protect fellow officers'
Mr Hibbert said: "They are the first to be called in when dangerous situations occur and they often put themselves on the line to protect their fellow officers.
"However, despite the invaluable work police dogs do for their communities, in law they are only considered property."
He said the law as it stood did not provide enough of a "punishment or deterrent".
In some parts of the US, he said attacks on police dogs were treated the same as those on serving officers.
West Midlands Police has one of the biggest dog units in the country and trains animals for several other forces.
It said many of its dogs had been attacked in recent years, either while tracking down suspects or during public disorder.
"One of my own puppies, police dog Usha, was once attacked with a glass bottle and there have been recent examples of police dogs being assaulted by criminals," Mr Hibbert said.