Health plan for Birmingham ban of super-strength alcohol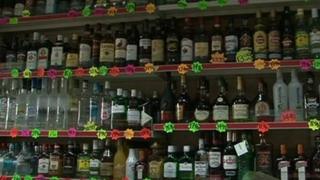 Health bosses have recommended plans to cut the amount of super-strength alcohol on sale in Birmingham.
A report to the city council's Health and Wellbeing Board has said it would help tackle health and social problems caused by alcohol misuse.
It has recommended introducing a scheme similar to one in Ipswich, which saw 75% of off-licences voluntarily take the products off their shelves in 2012.
Suffolk police said the move helped to halve drink-related street crime.
The report, which was written by Birmingham's Director of Public Health, Dr Adrian Phillips, states more than 25% of hospital emergency admissions are linked to alcohol.
'Cheaper than water'
Dr Phillips said: "The availability of very cheap and very strong ciders and alcohol is fuelling many of the problems in our society including hospital admissions, troubled families, domestic violence and safeguarding children.
"It's ridiculous now that you can actually get bottles of strong cider cheaper than some bottles of water."
Dr Phillips said he believed the government should look again at introducing a minimum price for a unit of alcohol after it shelved plans in July.
He said the council would work with the NHS and West Midlands Police to see what action could be taken in the city.
Police and Crime Commissioner Bob Jones said he had met with Dr Phillips and senior officers to discuss the Ipswich scheme.
He said: "However, this a sub-optimal plan compared with minimum unit pricing, which has been implemented in Canada and Australia.
"Evidence shows it has increasingly had a real impact on alcohol abuse related crime and ill health without any impact on responsible drinkers."
Rakesh Bhardwaj, who runs the Drinkspot off licence in Handsworth said people buying super-strength alcohol accounted for 10% of his daily takings.
"I don't think many off licences would want to take the products off their shelves because the issue isn't the alcohol it's the people drinking it.
"If they want to get drunk and misbehave it's down to the individual - they'll use lagers, spirits, whatever they want, it's not just strong beers and ciders."