Three men jailed for Co-op supermarket robberies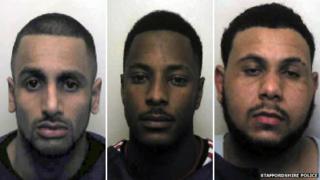 Three men from Birmingham have been jailed after robbing 15 supermarkets across England over 10 months.
Amandeep Singh, 26, Ryan Landon Shaw, 20, and Jani Joseph Wright, 25, admitted conspiracy to commit robberies at Co-operative stores during 2012.
They stole £34,011 as well as £3,790-worth of euros and US dollars.
At Stafford Crown Court, Shaw and Singh were each sentenced to four-and-a-half years and Jani Wright was jailed for five years.
Between 3 January 2012 and 1 November 2012, the three men robbed 15 Co-op shops in Staffordshire, Leicestershire, Shropshire, Worcestershire, Derbyshire, Northamptonshire, Walsall and Birmingham.
Staffordshire Police said the gang targeted the shops shortly before closing time.
'Victims traumatised'
They threatened and intimidated staff and forced them into rooms at the back of the stores, where they were made to give the men the contents of safes, it said.
Police said no workers were physically injured but many staff were left traumatised for weeks after the offences had taken place.
Shaw, from Sedgebourne Way, Northfield, in Birmingham, and Wright, of Conybere Street, Birmingham, were arrested after they had raided a store in Bridgnorth in Shropshire on 31 October 2012.
Singh was arrested the following day at his home in Salisbury Road, Birchfield, in Birmingham.
Staffordshire Police said the men were arrested following a joint investigation with three other police forces and an appeal on the BBC's Crimewatch programme.
Det Ch Insp Paul Clews said: "These crimes were committed against hard-working members of our communities and left several of the victims traumatised.
"I hope the prison sentences in some way help to bring closure."
Paul Spratt, from the West Midlands Crown Prosecution Service, said: "This was an extremely dangerous gang who, over a 10-month campaign of terror, attacked small local retail stores in mainly residential areas.
"They would enter the store in the final minutes of closing time and use threats of verbal and physical violence in order to gain compliance from the staff on duty and gain access to the store safe.
"We must be thankful that no was seriously harmed during their spate of robberies."