Perry Barr road closed after wind damages Tesco roof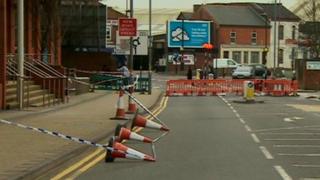 A Birmingham road has been closed overnight after high winds caused part of a supermarket roof to fall off.
Firefighters were called to the Tesco store in Aston Lane, Perry Barr at 20:13 GMT on Wednesday after reports a 4m x 1m piece of metal cladding weighing about 44lbs had fallen off.
Birmingham City Council said the road would remain closed while they waited for a surveyor to inspect the building.
Tesco said it was working to fix the cladding and the store remained open.
A West Midlands Fire Service spokesman said a safety cordon was put in place while a crew spent 90 minutes securing the roof.
No-one was hurt during the incident.
Crews were also called to a second wind-related incident on Wednesday to secure an "unsafe" 40ft tree.
Four homes in Kings Norton were evacuated after residents saw the conifer - which was later cut down - "swaying in the wind" when the ground below became sodden with rain.