Alum Rock wife-killer jailed for life at Birmingham Crown Court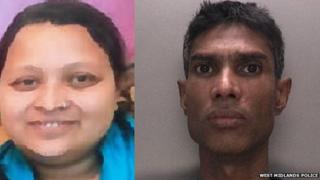 A man has been sentenced to life in prison for the murder of his estranged wife at her home in Birmingham after a long-running argument about the ownership of land in Bangladesh.
Mohammed Liaqat Ali, 37, will spend a minimum of 15 years behind bars for strangling Lilima Aktar Munny, 27.
She was found at the home they used to share in Pelham Road in Alum Rock in June, Birmingham Crown Court heard.
Her family became worried when she did not collect her children from school.
Hours after Lilima was found strangled, Ali was arrested.
Young daughters
Originally from Bangladesh, he first moved to the UK in 1998, returning home to marry Lilima in an arranged marriage in 2004, after which the couple came to live in Birmingham.
West Midlands Police said the marriage broke down when Ali became involved in a dispute with Lilima's mother over land in Bangladesh.
Det Sgt Ranj Sangha said: "It was a violent attack against an innocent woman in her home that has left her family completely devastated by what happened.
"Lilima has left behind her two young daughters whose lives will never be the same following this terrible crime.
"I hope that today's verdict brings some closure to Lilima's family and they can now begin to come to terms with what happened."