Victim charities demand inquiry over police message claims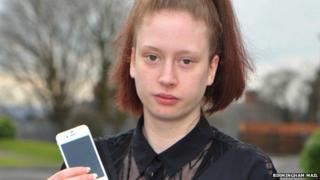 Charities have demanded a public inquiry following claims police officers left an abusive voicemail message on the phone of a woman who had made an assault allegation.
Alex Faragher, 19, from Birmingham, overheard herself apparently being referred to in sexist terms during an expletive-strewn conversation.
Domestic abuse charity Refuge called for an investigation into how police respond to abuse allegations
West Midlands Police has apologised.
'Disbelieved, mocked and ignored'
Ms Faragher said she had picked up the message in January, after she contacted the police about a domestic violence allegation that was subsequently discontinued.
The officers tried to call her phone but were unable to get through and mistakenly recorded their conversation.
When Ms Faragher, a wedding caterer, checked her messages, she said she overheard two men apparently abusing her.
On the voicemail recording, the men are heard calling her a "slag". They also discuss drafting a statement themselves and then getting "the bitch to sign it".
Two officers have been placed on restricted duties while West Midlands Police carries out a gross misconduct investigation.
Isobel Shirlaw, Refuge's development manager, said she had been "horrified" by the story.
"We understand the allegations are under investigation but we hear stories like this every day," she said.
"We know this is not an isolated incident. Women who report abuse allegations are disbelieved, mocked, ignored and denied the protection they need.
"It's crucial police take domestic violence as seriously as they do any other violent crime.
"Obviously there are many officers in this country who have great pride in their profession but unfortunately there are far too many other officers who don't have those same standards."
She said she was hopeful the Home Secretary Theresa May would consider the possibility of a public inquiry.
Ch Supt Rachel Jones, commander of Birmingham North Police, said she had visited Ms Faragher to apologise.
"She had the opportunity to express her disappointment and she seemed receptive to my apology," Ms Jones said.
"I understand she was very concerned about the service she was provided with."