Wolverhampton councillors approve £67m budget cuts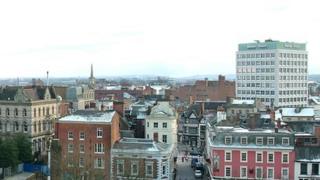 Budget cuts of £66.7m have been approved by the city council in Wolverhampton.
The cuts are part of a wider plan to save £123m in total over the next five years.
Protestors demonstrated outside the council offices as the budget meeting was going on.
Up to 2,000 jobs are to be axed by the council, with other workers facing changes to their terms and conditions.
The Labour-run authority is also raising council tax by 2%.
"These are dark days for our city and they will get darker," council leader Roger Lawrence said during the meeting.
"But I do see a day when we will see that breaking dawn and we can start rebuilding services for the people of Wolverhampton."
Nick Kelleher, secretary of the Wolverhampton and Bilston TUC, said the meeting was the "last opportunity" to stop the cuts.
"From what we've heard the council won't be able to provide the basic services that it has to by law this time next year," he said.
Liberal Democrat councillors had earlier called on council leaders to resign over the cuts.