Woman sought over missing daughter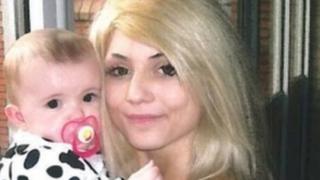 A mother who took her one-year-old daughter from a foster family is being sought by police, who are concerned about the pair's safety.
Lola Page was staying with foster parents when she was taken during a supervised visit in Willenhall, at about 13:00 GMT on Friday, police said.
Mother Stacey Ball, 18, of Walsall Wood, is believed to have got into a dark-coloured car with her child.
Neither have been sighted since, West Midlands Police said.
Det Ch Insp Matt Markham said the authorities were "extremely worried" about the welfare of both mother and child.
"Lola was in the care of social services at the time of her disappearance and we urgently need Stacey to make contact with us or anyone who may know their whereabouts," he said.
Lola is described by police as white with short straight blonde hair, and she was wearing a white cardigan and blue polka dot dress when she was taken.
Ms Ball is described as white and of thin build. She was wearing a long black wig, black leggings and a black and tan patterned dress.