Birmingham school governor system 'not fit for purpose'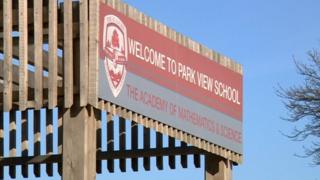 A council is freezing the recruitment of school governors while it investigates claims of an "Islamic takeover plot".
Birmingham City Council said it had imposed the freeze because the current system was not "fit for purpose".
Councillor Brigid Jones said there had been "floods of allegations" in the wake of Operation Trojan Horse.
The council said it would appoint a senior manager to look into the allegations.
'A witch-hunt'
Ms Jones, the councillor in charge of education, said: "Obviously, we have to take the allegations very seriously."
She said, since January, when the council received an anonymous letter containing allegations of a plot to impose an Islamic agenda at some schools, the council had met with the police each week.
"Since [the story] went public we have had floods of allegations coming in from different people, some about things happening today and some about things that happened 20 years ago," she said.
She said the council would employ a senior manager for six months to look into the allegations.
Regarding the recruitment freeze, she said the system of appointing governors had remained unchanged since the 1980s and was no longer fit for purpose.
"We don't train and support governors in the way we could be doing," she said.
"We are going to be overhauling how we appoint and recruit governors in the future."
Ofsted has confirmed it is carrying out snap inspections at the 12 Birmingham schools over the Trojan Horse allegations.
A former teacher at Park View School said he was dismissed in 2003 after raising concerns about extremism.
Meanwhile, a mother whose child attends Saltley School claimed she had been approached by a Park View governor, Tahir Alam, to be trained on how to be a "challenging parent", demanding "things like... more Islamic holidays and Islamic teachings".
Both schools are among those being investigated.
Mr Alam said he did not remember the woman but that he worked as a governor trainer, trying to "raise aspirations and challenge the schools".
Fellow governor David Hughes described the claims of an "Islamic takeover" as a witch-hunt.