Blues and Villa: How does relegation affect a club's home city?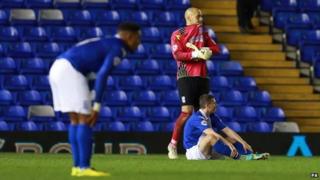 Aston Villa and Birmingham City take on Hull City and Bolton Wanderers later with the very real prospect of relegation looming. But if both went down, what impact, if any, would it have on Birmingham?
For football fans, it's the stuff nightmares are made of.
Relegation is the quintessential outcome of a failed season, often resulting in the forced sale of players, lower quality football, less money and all the stigma attached.
But for those not interested in the world's most popular sport, does it really matter?
'Loss of kudos'
Jerry Blackett, chief executive of Greater Birmingham Chambers of Commerce, said it would be "disastrous" if both Villa and Blues were relegated from the Premier League to the Championship and the Championship to League One respectively.
"The relegation of our key football clubs would be a great loss of kudos for the city and for local businesses," he said.
"It is the footfall on match days that keeps local pubs, hotels, caterers, those selling merchandise and local shops afloat.
"More than that, matches generate a lot of money for the local economy, particularly a Premier League club such as Aston Villa, which can attract crowds of 40,000 plus."
Rob Wilson, a football finance expert at Sheffield Hallam University, said Aston Villa and Birmingham City collectively contributed about £50m to the city's annual economy.
He said both clubs being relegated would theoretically cost the city between £10m and £12m, based on attendance forecasts and studies suggesting fans spend around £80 on match days.
But he said in practice, the overall economic impact would be broadly neutral because people no longer attending matches would spend their money elsewhere in the city, such as in cinemas and shops.
'See an impact'
"People don't stop supporting teams overnight," he said.
"But if you have a period of sustained poor performance then you might start to see an impact.
"If Villa went into the Championship, I would still expect Villa to attract 33,000/ 34,000 fans."
Birmingham and Manchester have long been rivals when it comes to who can claim to be England's second city. But the fortunes of Birmingham's two main football teams are in stark contrast to those in Manchester, where United and City have consistently topped the table in recent years.
A report published last year concluded football contributed about £330m in gross value added to Greater Manchester's economy in 2010-11.
It said the global profile Manchester received from football equated to £100m a year advertising and said if the teams continued to perform for the next 20 years, it would generate in excess of £2.5bn to the conurbation.
Manchester City Council leader Sir Richard Leese said at the time the clubs made "an enormous contribution" to life in the city and brought "a considerable number of visitors to Manchester".
Leeds United fans know about the impact of relegation.
They went from the Champions League semi-finals in 2001 to Premier League relegation in 2004 and now find themselves mid-table in the Championship.
Lifelong United fan Martin Adamson, landlord of the Old White Hart near the Elland Road ground, said he had no doubt the city had suffered.
'Doom and gloom'
He highlighted the Holbeck area which, he said, now has just two pubs compared to five previously.
"The attendances have dropped and that has imploded on the area," he said.
"You can see the demise of it all.
"It's doom and gloom all the time - there is no happiness.
"And it's not just pubs, it's the fish shops, newsagents - the whole area has been starved."
Mr Adamson said if Leeds played a Premier League team in a weekday cup match, he would expect to take more than £6,000 behind the bar, compared with £1,500 against another Championship team.
Mark Goldstone, from Leeds Chamber of Commerce, said there "probably had" been an impact on the city economically but denied the quality of events they had been able to attract had been tempered - highlighting the Tour De France Grand Depart, which begins in Leeds in July.
"Yes football is a factor but it's not the only factor," he said.
Portsmouth have similarly fallen from being a Premier League team and FA Cup champions in 2008 to a club in the fourth tier of English Football after consecutive relegations.
Ashley Brown, chairman of the Pompey Supporters' Trust, said the city of Portsmouth had lost its "global reputation" by not having a Premier League team but denied there had been a long-term impact on the economy.
"Manchester United and Manchester City are global brands, you can understand why they are so important to the city's economy," he said.
"But for the likes of Portsmouth, Birmingham City, even Villa, they don't have the same global weight. They don't have the shirt sales in China and everything else. I think if both were relegated, both teams would still command support."
'Damage to tourism'
Dr John Beech, a football finance expert at Coventry University, said sports business accounted for about 3% of a country's gross domestic product but said it was probably higher in Birmingham because of the size of Blues and Villa and the influence of other sports including cricket and rugby.
He said a Blues Villa double relegation would be "very bad news" from the club perspective and "bad but not disastrous" from a city perspective.
"The unseen impact is the damage it does to business tourism," he said.
"People in the UK know Aston Villa is a Birmingham team but people from abroad might not.
"If the only club that has Birmingham in its name is relegated to League One the city begins to lose its public image. It begins to fade and this makes it weaker internationally.
"Places like the NEC become less attractive for hosting major events."