Wolverhampton man slashed across face with carpet knife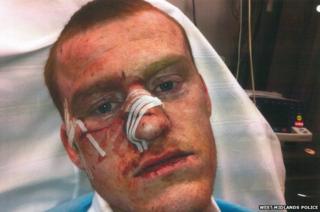 A man "scarred for life" after being slashed across the face with a carpet knife has been speaking of his ordeal.
Gareth Howles, 23, was walking in a Wolverhampton park when he was approached by a robber who attacked him when he refused to hand over his phone.
He was left with multiple knife wounds to his face, including one that stretches across the bridge of his nose, narrowly missing his eyes.
The masked man seized earphones worth just a couple of pounds.
"It was only when I made my way out of the park and turned round to see a trail of blood did I realise I'd been cut," said Mr Howles, a youth worker.
'Looking for victims'
He added that it happened very quickly, and "adrenaline took over".
"I've been told I'll be scarred for life but I'm just grateful I still have my sight as the knife came very close to my right eye."
The attacker, who has not been caught, was described by police as a 6ft 3in mixed-race male who was wearing black clothing and a ski mask.
Mr Howles said: "It was an ordinary morning. I was walking through the park to take my disabled granddad on a shopping trip when a guy ran out of the bushes and squared up to me.
"This man needs locking up. If anyone has suspicions about who might be responsible then please call the police so we can get this man off the streets."
It happened at 09:40 BST on 14 April as Mr Howles was in Fowler's Park near the entrance from Nine Elms Lane.
Sgt Steve Perry, from West Midlands Police, said: "[The robber] emerged from bushes near the skate park; it could be that he'd been in the area for some time looking for potential victims."
It has emerged not all of the council-operated CCTV cameras at the park were operational when Mr Howles was attacked.
In a statement Wolverhampton City Council said two out of six cameras "have had intermittent faults, and as a result were not working at the time of the incident".