Coseley pupils off school after alleged knife incident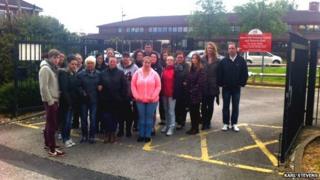 About 30 children are being kept off school by parents who claim an alleged knife incident was not taken seriously.
They believe a pupil brought a knife into Hurst Hill Primary in Coseley, Bilston, West Midlands on Wednesday.
The school's head, Caroline Dingle, said the allegation was "totally without evidence" and a spokesperson for West Midlands Police said it was "nothing more than a rumour".
Parents who refused to accept this said they would protest outside the school.
The school, which has just over 300 pupils aged between four and 11, was downgraded in its 2013 Ofsted rating, from "satisfactory" to "requires improvement".
'We want resignations'
One father, Karl Stevens, said after an investigation by a parents group he was sure a child was in school with a knife.
He said he would keep his daughter away from the school "until we are satisfied and convinced it is a safe environment".
Claiming the allegation was not taken seriously, he called for a change of management and governors, adding: "We want resignations."
Ms Dingle confirmed on Thursday "a number of parents have withdrawn their children from school today due to allegations made about incidents at school".
She issued a statement reassuring parents and reminding them of their "legal duty to send their children to school".
Insp Julie Mason, from West Midlands Police, said local neighbourhood policing officers followed up concerns a pupil may have had a penknife.
No evidence was found and no further action was taken, she added.