Allotment holders search for WW1 soldier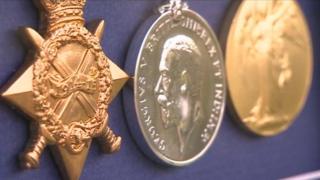 Allotment holders who discovered a World War One soldier's medal in a plot on the site have opened a memorial garden in his honour.
Pte William Richards, of the King's Shropshire Light Infantry, was killed during the battle of Ypres in 1917.
In 2007, a plot holder at Thornbridge Allotments, in Birmingham, dug up one of Pte Richards' medals.
The allotment holders opened the garden earlier. They are also hoping to trace Pte Richards' family.
Andrew Poyner, chair of the Thornbridge Allotments Society, said it was a "mystery" how Pte Richards' British Service Medal had ended up on the site.
"I have spent a long time trying to trace them," he said. "William was born in Llanelly and moved to the Rhondda Valley at some stage.
"According to the 1901 census, he lived with his parents John and Margaret and his older sister Rachel.
"If he was born in Wales, why has his medal ended up on an allotment site in Birmingham?"
He added no family members had yet come forward but he had been contacted by a number of organisations, including the British Legion, who he hoped could help him with his search.