Druids Heath overdose pharmacist can practise again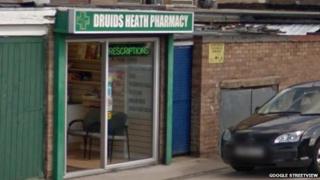 A pharmacist who mistakenly caused a patient to overdose on morphine has been cleared to return to work.
Satish Jalota, 64, who owns Druids Heath Pharmacy in Birmingham, did not notice the information on tablet boxes, which were marked 10mg and 60mg.
It meant he supplied a patient with medication six times the strength of the prescribed amount, causing them to overdose and be admitted to hospital.
Since April 2013 Mr Jalota has been subject to strict conditions.
The General Pharmaceutical Council's fitness to practise (FTP) committee has now lifted any restrictions and said it was "confident [Mr Jalota] will handle controlled drugs in the future accurately and appropriately".
Committee chairman Christopher Gibson QC said Mr Jalota, who first registered as a pharmacist in 1976, was a "highly-regarded" pharmacist with an "unblemished" career when he made the mistake in September 2011.
Mr Gibson also noted Mr Jalota did his best to rectify his error, even visiting the patient's home to retrieve and replace the wrong tablets.
Last month Mr Jalota told the FTP committee that he had been "shocked" by what happened and that his confidence had been "shaken".
However, he added that his "confidence has been restored" in the past 12 months, working under the supervision of a fellow pharmacist.
Mr Gibson said: "On the basis of the material before us, we consider that there is no evidence that there would be any compromise to public safety if Mr Jalota's registration was restored to being unconditional."
Mr Jalota's full registration took effect on Wednesday.