Father's plea for six-year-old British boy trapped in Syria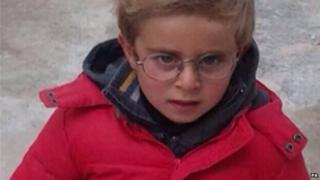 The father of a six-year-old British boy trapped in Syria has appealed to the government to help him escape.
Muadh Zain was born and grew up in Birmingham and is believed to be stuck inside the rebel stronghold city of Daraa.
His father, Wael Zain, said the boy went to live with his Syrian mother in 2011 after his parents split up.
The Foreign Office said it is aware of the situation and is offering advice and assistance to the family.
Mr Zain, who lives in London, said his son had seen his uncle killed by shrapnel and the town around him reduced to rubble.
He has not spoken to his son for four months, but was told he was living out in the open under olive trees, after their neighbour's home was struck by a bomb.
He said Muadh was "absolutely traumatised", had stopped speaking and clings to his mother's side, too frightened to leave her.
Jordanian border
He also believed his son had developed a squint in his right eye, which required urgent medical treatment.
Daraa is a 15 minute drive away from the border with Jordan, but it is closed.
More than 2,000 people have signed an online petition calling on Foreign Secretary William Hague to bring Muadh and his mother, Doha, home.
They want the Foreign Office to persuade the Jordanian authorities to reopen the crossing.
Mr Zain, who works for financial services giant Allianz in London's Canary Wharf, said: "My son is a British child. The government has a real responsibility to act, but they aren't."
The Foreign and Commonwealth Office (FCO) said "For some years FCO travel advice has advised against all travel to Syria, and all UK consular services in Syria were suspended some time ago.
"Our ability to assist British nationals is becoming more and more limited as the war continues."
Mr Zain said: "I want my son to be safe. I don't want him to be flown home in a coffin."