Black Country family shop sale includes faggots recipe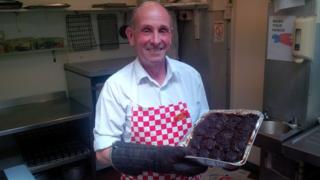 The owner of a family food business is selling not only his shop but also his recipes for success - his signature dishes.
The Cook Shop has been a feature of Old Hill, near Halesowen, for 125 years.
Nigel Brazier, the fourth generation of his family to run it, has put it on the market for £120,000.
Included in the price are recipes for Black Country favourites including faggots, Groaty Dick, bread pudding and his trademark sage and onion stuffing.
'Bittersweet'
The 64-year-old Mr Brazier plans to retire this year so he and his wife Anne can spend more time with their grandchildren but he "wants the door to be left open when he leaves".
His four sons already have different careers. That is why he came up with the idea to sell the whole business.
The asking price includes fixtures, fittings, stock at valuation but also the recipes he holds dear.
Mr Brazier hopes they will appeal to a prospective buyer because the business sells 350 faggots each week, and they have proved a lure for customers from as far as Yorkshire and Scotland.
He also believes his is one of the few shops still selling traditional Black Country dishes made on site.
He said: "It would be lovely if it could continue. It would be a bittersweet feeling if it sold."