Fake England shirts seized in Wednesbury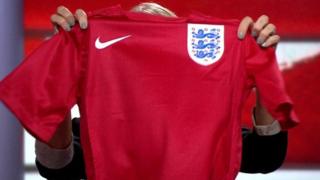 More than 2,000 fake England shirts have been seized by trading standards officers from two homes in Wednesbury.
They were part of a haul, including fake jackets, sunglasses and exercise equipment thought to be worth almost £250,000, Sandwell Council said.
Trading standards said three men were co-operating with their investigation, but no arrests had yet been made.
They said they received a tip-off after the shirts appeared for sale on Facebook for £20-£30 each.
'High quality'
A genuine England shirt costs about £60 and councillor Paul Moore, responsible for trading standards in Sandwell, said the fake versions were in "high demand".
He added that the sellers were believed to have made about £2,000 selling the various items over just one weekend.
Trading standards said the fake items included Ray-ban sunglasses and Stone Island jackets and were difficult to spot from the genuine products.
"The quality of these fakes took us by surprise and it would be very difficult for the average person in the street to tell," Mr Moore said.