Birmingham bus lane cameras switched back on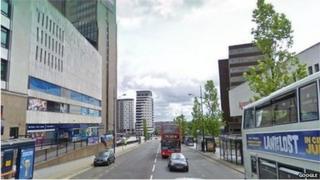 Bus lane cameras which resulted in fines totalling £60,000 for drivers in Birmingham are to be switched back on, the council has said.
In February, a tribunal ruled some motorists caught driving in the lanes had been unfairly fined because signs on Priory Queensway were inadequate.
Birmingham City Council said it had reviewed the signs and would switch the cameras back on "over the next few weeks".
It said: "We are happy with the signs."
A spokeswoman added: "People shouldn't be driving in bus lanes anyway so it's right we enforce that."
The council had stopped using the cameras in February while The Independent Traffic Penalty Tribunal took place.
'Understandable confusion'
It upheld drivers' appeals at three places; The Priory Queensway from Colmore Circus towards Old Square, St Martin's Queensway and Moor Street Queensway.
In a report, adjudicator Stephen Knapp said some of the signs were "a real source of understandable confusion".
Councillor Tahir Ali, who oversees the scheme, said: "The cameras will be switched on shortly. Additional signs have also been put up to help the public better understand the road layout.
"We accepted the decision of the adjudicator and rectified the signs he was not happy with."
The Birmingham Mail, which broke the story, published complaints from drivers, including families visiting the nearby children's hospital.