Trojan Horse: Governors resign over Ofsted inspection report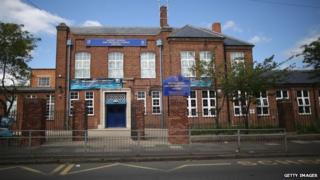 Governors of a school involved in the "Trojan Horse" inquiry have resigned in protest at an Ofsted inspection they claim was "flawed".
Saltley School was one of five Birmingham schools that were put in special measures earlier this month.
Birmingham City Council said although the governors had resigned they would have been replaced anyway because of failing standards at the school.
Ofsted said it had "full confidence" in the judgements of its inspections.
In a statement, the governors said Ofsted should have made a clear indication in its report about whether the school "did or did not have an Islamic agenda".
'White team'
They said: "This whole process has been a disservice to students, their families, hardworking and committed teachers and staff in the school.
"Though we have challenged the way the inspection was carried out and the conclusions it came to, the governing body has no resources to take this further, therefore we have decided to resign in protest."
The governors claim the inspection was not impartial because it was carried out by a "white Ofsted team".
They said: "There was no corroborative approach to black/Muslim governors and a black interim executive head teacher [which] would clearly suggest differential and discriminatory treatment on the grounds of race and religion."
The governors also defended the decision to spend £55,000 on private solicitors to deal with trade union disputes and staff misconduct.
They said this was "necessary" because of a lack of advice and support from Birmingham City Council.
Ofsted said reports by the Education Funding Agency supported its judgement that there had been "a sudden and steep decline in these schools", including Saltley.
It said it had "full confidence in the judgements of both its previous and present inspections".
Birmingham City Council said it would work with the school and the Department for Education to put in place an interim executive board as part of the response to the school being placed in special measures.
A spokesman for the council said: "We share the commitment of the outgoing governors to the success of young people in Saltley School and we are very determined to see this school return to being the good school it once was as quickly as possible."
Meanwhile, the Yardley Liberal Democrat MP John Hemming has said he is in talks to become the chairman of governors at Oldknow Academy.
It is one of the five schools placed into special measures as a result of the "Trojan Horse" investigation.