Birmingham's hidden spaces revealed in photo exhibition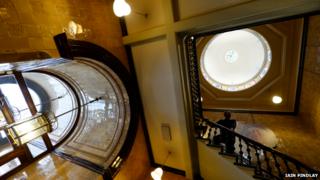 A new photographic exhibition is offering people a rare look behind the scenes of some of Birmingham's most iconic buildings.
"Hidden Spaces" is being held at the Grade I listed Curzon Street Station, which has been empty since 2006.
It features pictures taken inside places including the Chamberlain clock tower and Boulton's Assay Office.
The exhibition has been put together by the Birmingham Post newspaper and Associated Architects.
Matthew Goer from Associated Architects said they wanted to "give people a glimpse behind closed doors of buildings that people don't normally get access to".
He said: "As architects we are quite privileged that we do get to go into these places and understand the stories behind them; why and how they were built, how they were designed, and we wanted people to share that."
Mr Goer said they had picked Curzon Street station to hold the exhibition because of its historical importance.
It was built in the early 1830s, as the main terminus for the London and Birmingham Railway.
The building has been unused since May 2006, but a new station is planned on part of its site for the HS2 service.
"It's a fantastic space inside; it's rather grand and rather imposing but I suppose at the time that was probably a reflection of it's importance in society," said Mr Goer.
The exhibition is part of the city's annual Love Architecture festival and will be on display until 29 June.