Birmingham City Council IT reforms 'to save £150m'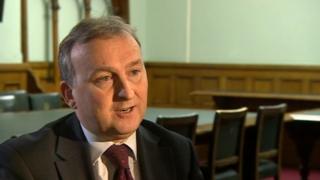 Birmingham City Council says it can save £150m over seven years by renegotiating its contract with Capita.
The council's cabinet is being asked to approve the continuation of the Service Birmingham contract with Capita "in return for substantial savings".
However, the council's call centre, currently run under the contract, will be brought in-house by the end of 2014.
The £120m-a-year cost of the contract has been criticised, with the authority needing to save £822m by 2018.
Capita runs the council's information and communications technology (ICT), call centre and billing services.
But more than 400 people signed a petition calling for details of the contract to be published to show the authority was "getting value for money".
Economics professor David Bailey, from Aston University, who started the petition, had called the contract a "poor deal for taxpayers".
The Labour-run authority published the contract in February, although said commercially-sensitive detail had been redacted.
'Too risky'
Capita said it had worked with the council to identify ways to reduce ICT costs and wanted a "reinvigorated partnership" following the review.
Deputy council leader Ian Ward, said: "On balance, the council considers the risk of changing ICT provider at this time, too risky; [it] would take a considerable period of time to procure and would cost additional tens of millions upfront in early termination charges and re-procurement costs."
But he said by bringing the contact centre in-house, the council could make extra savings and "place customer service at the core of what the council is about."
It hopes savings beyond the £150m can be identified.
Mr Ward added: "What I will also want to see coming out of this challenge is for both parties to work harder to make the partnership work, better than it has to date."
The report will go before the cabinet on 30 June.