West Midlands Police rapped over Lloyd Butler custody death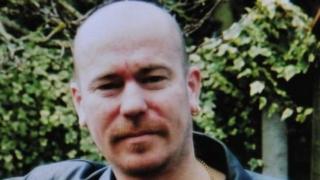 Police made an "alarming number of mistakes" and behaved "unacceptably" before a man died in custody, a watchdog has found.
Lloyd Butler, from Birmingham, was held at Stechford police station in 2010 when he should have gone to hospital.
The Independent Police Complaints Commission (IPCC) report was released after an inquest heard he may have lived had he gone to hospital earlier.
West Midlands Police apologised and said improvements have been made.
'Big gap'
Mr Butler's mother Janet said her son's treatment had been "appalling".
"The day I was told my son passed away at Stechford was the day my life had a big, big gap," she said.
"There's no such thing as closure. His two boys have no father.
"I'm told deaths in custody have gone down but they should never happen in the first place."
Officers were originally called by Mr Butler's family because he was drunk and they were concerned about his welfare.
The 39-year-old father from Sheldon was declared dead at hospital after officers started first aid in his cell. He died of cardiac arrest from an alcohol-related condition.
The IPCC found officers on duty in the custody suite failed in an observation plan that required him to be regularly roused and his condition checked.
Some of the visits were missed entirely while others failed to rouse Mr Butler sufficiently.
IPCC criticisms of the police also included:
• PC Dean Woodcock surfed the internet and made personal calls rather than monitoring CCTV footage of Mr Butler's cell
• Sgt Mark Albutt made improper entries in the custody record alleging that officers were checking more often and more thoroughly than actually occurred
• PC Woodcock and civilian member of staff detention escort officer Darren Wall joked about Mr Butler's condition and made insulting remarks about him. They included when Mr Butler's trousers fell below his waist, instead of assisting him.
'Concerned and disappointed'
The inquest concluded Mr Butler was already "incapable" when he arrived in custody.
The narrative conclusion was: "Had Mr Butler been on a monitor in A&E the probability is, he was likely to have survived."
Birmingham senior coroner Louise Hunt said she "remained concerned about contact in custody suites" and there needed to be a "change of culture to take account of vulnerable people".
She will now write to West Midlands Police and send a report to prevent future deaths.
The custody sergeant responsible for Mr Butler's care in a cell, Sgt Albutt, was found guilty of gross misconduct last January and given a final written warning.
Two other officers were also found guilty of misconduct and given advice.
'Tragic loss'
Acting Ch Con Gary Cann said he was "concerned and disappointed" by the actions of officers, who had failed to carry out an adequate risk assessment when arresting Mr Butler and placed him in custody instead of taking him to hospital.
"We do not underestimate the impact the death of Lloyd Butler has had on his family and friends and the force extends its sincere condolences," he said.
He added: "Improvements have been made since this case which will help ensure safeguards are in place to prevent deaths in custody."
IPCC Associate Commissioner Guido Liguori said: "My thoughts are with Lloyd Butler's family and friends for their tragic loss. The indifferent treatment of Mr Butler by officers and staff of West Midlands Police showed a disregard for both the stated procedures of detention and also for human decency."
The watchdog said it referred the case to the Crown Prosecution Service but it was decided the officers' actions "did not meet the threshold for prosecution".