Travellers force Elston Hall Primary sports day postponement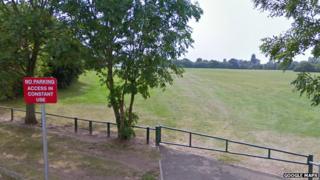 A school has postponed two sports days after travellers moved onto playing fields in Wolverhampton.
About 40 caravans and vehicles relocated to the city council owned Bee Lane sports field on Tuesday.
Elston Hall Primary School said it had been forced to cancel sports day events for key stage two and early years pupils on Wednesday and Thursday.
The council said it had served a legal notice on the travellers and it would be working with police to move them on.
Local councillor Ian Angus said that the group were believed to have moved to the site from land in Fowlers Park, Park Village, which had been left littered with rubbish.
He said Elston Hall did not have a playing field of its own so used Bee Lane field which was next door to the school.
The postponement of the events was "desperately disappointing for pupils and parents", he said.
"The council has committed to, as soon as the travellers have gone, carrying out a deep clean of the site," he said.
Mr Angus said the school intended to reschedule the sports day within a fortnight.