Minibus full of snakes, meerkats, spiders and birds of prey stolen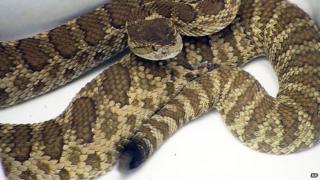 A converted minibus containing £20,000 of animals including snakes, meerkats, birds of prey and a venomous spider was stolen from a car park.
The vehicle belonged to Natural History Presentations, which visits schools in the West Midlands to do presentations.
It was taken from St Andrew's church car park in Sedgley on Tuesday.
The minibus was later found abandoned near a row of garages in Central Drive, Lower Gornal. All animals apart from two snakes have been found.
Owner Paul Beech, 59, said he had left the van unoccupied for about two hours while he went to the Bulls Head pub to discuss a job.
'Sheer panic'
"When I saw they were gone I went blank," he said.
"It was sheer panic."
He said he recovered most of the animals - including the venomous Chilean rose tarantula - when police called him in the early hours of the morning to say they had found the LDV Convoy minibus.
Mr Beech said he would return to try and find the two missing snakes - a carpet python and California king snake. Neither were venomous, he added.
The minibus had minor damage to it from where the lock had been forced.
"The animals were the main thing," Mr Beech said.
"You can always get another vehicle. It was a big relief."