Moreton Community School pupil excluded in 'needle jabs' probe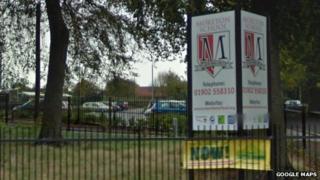 A schoolboy has been excluded after parents complained children had been jabbed with a needle.
The 11-year-old, who attended Moreton Community School in Wolverhampton, was arrested in June and remains on bail.
Police identified at least 20 pupils they believed had been jabbed with the diabetes pen.
Wolverhampton City Council said the first of three precautionary hepatitis injections had revealed no evidence of the condition.
A statement said the risk to children remained "extremely low".
The council confirmed the boy had been excluded. A spokesman said: "West Midlands Police are still carrying out their investigation into the incident and the pupil remains on bail.
"Following the incident, the school spoke with the students to highlight the dangers and severity of what had happened.
"The school continues to work with public health bodies to make sure that all health related matters are appropriately dealt with and parents are being kept informed."