Solihull couple fatal stabbing referred to IPCC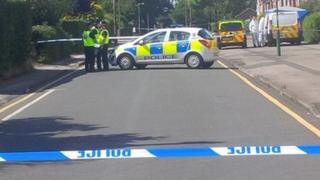 The deaths of a man and woman found stabbed at their home 45 minutes after officers visited the address have been referred to the police watchdog.
Pin Chang, 58, and his wife Quoi Chang, 50, were found at a property in Hermitage Road, Solihull on 7 July.
West Midlands Police said officers were called at 03:56 BST and left the house at 04:48. They returned at 05.33 after a 999 call and found the couple dead.
The case has been referred to the IPCC on a mandatory basis.
A 23-year-old man has been arrested and remains in hospital with severe injuries, under armed guard.
A spokesman for the Independent Police Complaints Commission said: "The IPCC received further information from West Midlands Police relating to the incident on the 11 July and we are currently assessing the level, if any, of IPCC involvement."