Marcus Musgrove gets life after Jacqueline Oakes murder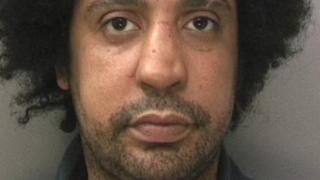 A man has been jailed for life after murdering a mother-of-four in a Birmingham tower block.
Jacqueline Oakes was discovered in a bedroom at Century Tower, Dollery Drive in Edgbaston, in January.
A post mortem revealed the 51-year-old victim died from multiple blunt force injuries.
Marcus Musgrove, 40, of Lichfield Road, Aston, was found guilty after an 11-day trial at Birmingham Crown Court and ordered to serve a minimum of 18 years.
He was also found guilty of encouraging or assisting the commission of an offence. Four other charges were allowed to lie on file.
'Manipulative and violent'
A review has been launched into the circumstances surrounding the death, including the contact she had with various agencies at the time.
West Midlands Police said the fatal attack came after weeks of controlling and abusive behaviour.
Det Insp Ian Iliffe said: "Jacqueline was a vulnerable person who was taken advantage of by a manipulative and violent man.
"She tried to offer him kindness and friendship but Musgrove repaid her with violence, in much the same way he had with others that he had previously been in relationships with.
"His use of violence eventually led to Jacqueline's death."