Solihull couple fatal stabbing will not be investigated by IPCC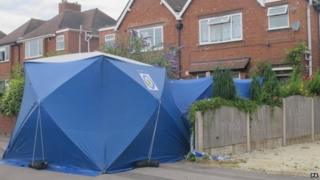 The deaths of a man and woman found stabbed at their home 45 minutes after officers visited the address will not be investigated by the police watchdog.
Pin Chang, 58, and his wife Quoi Chang, 50, were found at a property in Hermitage Road, Solihull, on 7 July.
West Midlands Police referred the case to the Independent Police Complaints Commission (IPCC) but it ruled the force should do its own investigation.
A 23-year-old man has been arrested and is in hospital with severe injuries.
West Midlands Police said officers were called at 03:56 BST and left the house at 04:48.
They returned at 05.33 after receiving a 999 call and found the couple dead.
An IPCC spokesman said: "After careful consideration of the information available at this time, [we have] decided that this matter should be subject to a local conduct investigation by the force.
"If further concerns arise during the course of the local investigation that might merit this decision being reconsidered, the matter can, and should, be referred to us again."