Ex-Regents Park Primary School head and deputy struck off for altering Year 6 Sats papers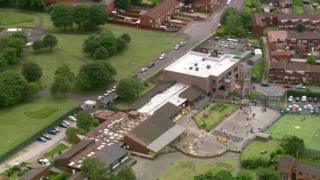 The former head teacher of a Birmingham school has been struck off the teaching register after she doctored Year 6 Sats exam papers.
Tina Ireland admitted amending mental maths test papers in a "moment of madness" last May alongside deputy Michelle McCusker at Regents Park Community Primary School.
A disciplinary panel banned both women from teaching "indefinitely".
They can apply for their prohibition orders to be lifted in five years.
Ms Ireland and Ms McCusker previously admitted altering a "significant number" of papers when they appeared before a National College for Teaching and Leadership disciplinary hearing.
'Exceptional circumstances'
Their actions meant the entire Year 6 cohort at the school had their mental maths results annulled.
The disciplinary panel said an "agreed timetable variation" to account for a sick child had meant test papers were stored but not sealed.
"These exceptional circumstances made it possible for the teacher to look at the papers," it said.
The panel said Ms Ireland had changed the answers of "some of the middle band children as she felt that the children understood the mathematics and should have got these answers right."
A spokesman for the Secretary of State for Education accepted both women had "previous good history" but their actions had fallen "significantly short of the standard of behaviour expected of a teacher".
Both teachers stepped down from the Small Heath school in October 2013 as a result of the allegations.
Ms Ireland was named in the so-called "Trojan Horse" letter, alleging an Islamic takeover plot in several Birmingham schools.
The author of the anonymous letter - the authenticity of which has been questioned - claimed responsibility for Ms Ireland's departure.
But a report by Ian Kershaw, commissioned by the city council and published on Friday, found no evidence tactics outlined in the letter had been used at Regents Park.