West Midlands Police to spend £25m on restructuring technology advice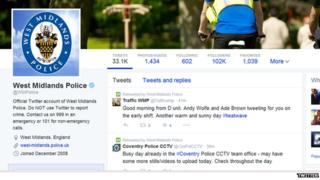 West Midlands Police will pay a private company £25m to help it restructure and introduce new technology.
The force said the challenge for Accenture was to make policing more effective, while cutting the budget by £120m.
It could mean people will be able to report crimes online and track the progress of cases electronically.
The Police Federation, which represents rank and file police officers, has yet to comment on the plans.
On top of the £25m contract, West Midlands Police said it was planning to spend £100m on IT over the course of Accenture's five-year contract.
In a report it said: "We cannot, on our own, generate change quickly enough to overcome the challenges we face.
"In addition, the track record across the police service of introducing technology-led change suggests the need for external support."
The force has already reduced its budget by more than £100m and cut 2,500 officer and staff posts.
Accenture will spend the first six months of the contract drawing up a new force structure.