Birmingham 'aliens' sent to WW1 internment camps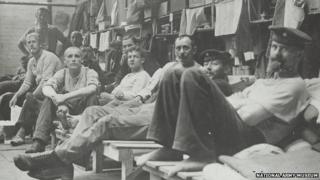 The outbreak of World War One in 1914 radically altered British people's attitudes to those who were not UK nationals.
Germans living in the country became categorised as "enemy aliens" and government legislation was brought in, requiring all foreign visitors to register with their local police station.
In Birmingham, more than 5,000 "aliens" were made to visit the Steelhouse Lane station, the lock-up for the Victorian Law Courts next door.
They included Germans, Poles, Italians, Austrians and Russians.
About 50 volumes of records were compiled, including details of people's ages, occupations, physical descriptions and details of any previous military service.
"The number also included any woman that married non British people because of course they lost their British nationality," said Dave Cross, who manages the West Midlands Police museum archives.
"Any foreigners who visited Birmingham, even for just a couple of hours, had to register too."
Germans 'mollycoddled'
Mr Cross said the foreigners' occupations included travelling salesmen, hairdressers, music hall artists, and two men believed to be former police officers, although their record entry shows them as "retired".
He said the most famous entry on the list was a French-born actress Sarah Bernhardt, who was in the city for two days to perform in a show at the Grand Theatre.
"Her entry is logged on 16 April 1916 and the police officer who recorded this wrote she was 5ft 4in, of medium build and minus her right leg," said Mr Cross.
"It had been amputated because of gangrene after she hurt her knee in a stage performance."
After the sinking of the Lusitania by a German submarine in May 1915, anti-German feelings led to riots in big cities, including Liverpool, Manchester and London.
It was then the government stepped up its operation to move Germans to internment camps.
"There was some interment before its sinking but when the Prime Minister announces this he says its partly for the safety of the realm and partly for the safety of the Germans themselves," said Professor Panikos Panayi, from Leicester's De Montfort University.
On 26 June 1915, the Birmingham Daily Mail reported "53 Germans of military age" had left Birmingham and were sent to Handforth internment camp, near Wilmslow in Cheshire.
It said: "The prisoners, who largely comprised clerks engaged in Merchants' offices, had been detained at the lock-up at Steelhouse Lane, and shortly before noon they were marching in couples to New Street Station, whence, they made the journey northwards by the train leaving at 12.05."
The camp, which was a former printworks buildings, held about 3,000 German men.
There was no difference between how civilians and military prisoners were treated, Prof Panayi said.
"Sections of the press were obsessed with the Germans being mollycoddled, which they weren't," he said.
"They lived a fairly basic existence in the same way any male of military age would've lived at that time."
"The main issue for people was boredom because civilians were not supposed to work, although military prisoners were able to do things like agriculture and gardening."
Many civilian prisoners turned to education to pass the time.
The camp had 30 teachers and a library with more than 3,000 books.
Prof Panayi said the other activity that took off in the camps was theatre.
"It was so popular because you can get all types of people involved; you've got the actors, you've got people to construct the sets and lighting and a ready-made audience," he said.
It is not known exactly what happened to the 52 men that left Birmingham on 26 June to go to Handforth, although it was not uncommon for men to be moved onto the Knockaloe camp in the Isle of Man.
At the end of the war the majority of German "aliens" returned to their home nation.
Mr Panayi said: "They were deported from all parts of the British Empire, although you could appeal and some did stay.
"The civilian population was absolutely decimated; it went from 53,000 people to about 20,000."