George Dexter's funeral: Dozens turn out for WW2 veteran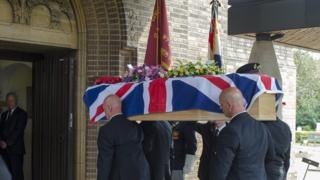 Dozens of people have attended the funeral of a 97-year-old war veteran after an appeal for mourners.
The body of George Dexter, who survived two ships sinking in the space of 24 hours during World War Two, was met by standard bearers at Yardley Crematorium, Birmingham.
His remaining family had worried he might face a "lonely send-off".
About 50 people turned out after relatives and veterans' charities appealed for people to say goodbye.
In April 1941 Mr Dexter survived when the ship he was sailing on - the Dutch passenger ship SS Slamat - was sunk by German Luftwaffe bombers.
The rescue vessel which picked him up - the HMS Wryneck - was also destroyed the same day.
Mr Dexter, who died earlier this month, went on to share his story and was behind efforts to create a memorial for the men who died in the raids.
His coffin, draped in a union jack, was met with a guard of honour at the crematorium.
During the service, Mr Dexter's nephew Andrew Barrett gave a short speech and said his uncle had lived a "long and full life".
As the service drew to a close, The Last Post was played.
Frans Luidinga, the son of the SS Slamat's captain Tjalling Luidinga, travelled from the Netherlands to attend the service.
Speaking after the service, Mr Barrett said: "It was a very good send-off, it's just what he would have wanted.
"There was a worry it could have been just me at one point. But it was rather better than it might have been."