Arrest over illness at Goldfield Court housing complex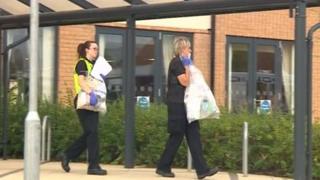 A sheltered housing complex where residents and staff were taken ill with symptoms similar to food poisoning is being investigated by police.
A woman was arrested after officers were called to Goldfield Court in West Bromwich in the West Midlands on Tuesday evening.
She was questioned on suspicion of administering a noxious substance.
The 23-year-old has now been bailed to a secure unit for a mental health assessment, while inquiries continue.
Further tests are under way to determine the exact nature and cause of the illness, police said.
One relative said her mother had suffered vomiting and diarrhoea over three or four days and had felt drowsy. She said the symptoms started about two weeks ago.
Police are working with Sandwell social services and the home's management.
"Anyone with information in relation to the investigation should contact Sandwell Police," they added.
The complex, which features 93 flats, is run by Housing and Care 21, in partnership with Sandwell Council .