Millennium Point Giant Screen Cinema to close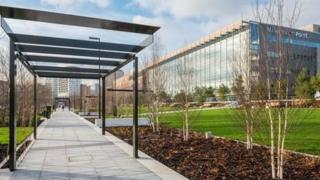 A giant screen cinema in Birmingham is to close as it is losing money.
Millennium Point said the 22m (72ft) screen would close as a commercial cinema in January.
The venue said it hoped to continue to use the auditorium for screening educational documentaries, and for conferences and "major events".
Philip Singleton, chief executive officer, said over the past two and a half years The Giant Screen had not been "anywhere near breakeven".
"If we proceed, I do envisage this to mean that jobs will potentially reduce here and we are making sure that we handle this with care," he said.
Millennium Point, next to Birmingham's Eastside City Park, opened in 2001 and contains the Thinktank science museum.
It also houses faculties of Birmingham City University and the fashion and design studios of Birmingham Metropolitan College.
The cinema is capable of showing digital 3D films and has a 15,000w digital surround sound system.